Grim Fandango 2?

Grim Fandango 2 hasn't been announced to be in development, but there are some possibilities that sometime in the future it might be produced.

The first piece of possible evidence is a magazine scan listing LucasArts upcoming titles, and it does include Grim Fandango 2:





(Image from The SCUMM Bar - used with permission)




But this was probably just speculation.

In an interview carried out many years ago with LucasArts' Tom Sarris mentioned that they would "Love to revisit Grim Fandango":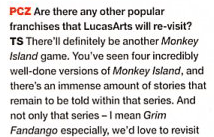 (Image from The SCUMM Bar - used with permission)




However, it is now very unlikely that this will happen. LucasArts began to produce a Full Throttle 2 and Sam & Max 2, while this was happening there was some hope. But unfortunately both these games were cancelled, and nearly all of LucasArts' internal projects were cancelled. This makes is very unlikely that they will start on a Grim Fandango 2.

But, if any news does develop about Grim Fandango 2, we'll be sure to post it in the site news straight away.